Radix
Posted on October 20, 2016 .

Comments are off
Radix are an Adelaide band formed in 2016. A lot of people ask what we sound like. An easy way to find out, come and see us play our buy our EP! (when it's launched..soon hehe) Our influences are diverse, from Nirvana to Metallica and Avenged Sevenfold to name a few, but we just sound like Radix!
We are a relatively new band, but we've already been really successful in a couple of battle of the bands comps, including of course winning the 'Keep it Real' live artist competition!
"They (Radix) were clear favourites from the beginning, but it was soon clear why; they were tight, they had the crowd going from the start and they didn't forget to be humbled by the experience. And there were at least five people seated on the thrones of others' shoulders by the end."
Zoe Butler, TEO Magazine, 20 August 2016
We all have day jobs…well except Tyler (but he is a bass player…HAHAHA), but are more at home on the stage. We get great feedback about our energy and our live sound so make sure you check us out.
Background information on us…umm, really depends on who is reading this!! If you're really interested in that stuff come up to us and ask at one of our shows.
We've just finished recording our debut EP, so keep an eye out for our launch.
And our big news is we just agreed to terms with Keep it Real Studio on a record deal and also an Artist Management deal with Keep it Real Entertainment!
Yeew!
Harry "Radix" (Vocals,Guitar)
Tom "Fly" (Lead guitar, backup vocals)
Nick "Deadleg" (Drums, backup vocals)
Tyler K (Bass, backup vocals)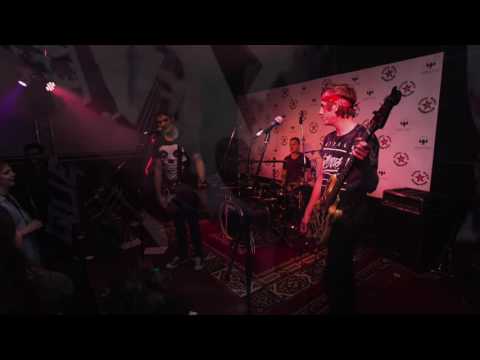 GENRE:
Influences:
Nirvana
Tracer
DZ Deathrays
Violent Soho
Dune Rats
Avenged Sevenfold
Bullet For My Valentine
Black Veil Brides
Motorhead
Metallica
Kiss
Korn
Ghost
ACDC
Green Day
Blink 182
Thrice
Royal Blood
Foo Fighters